The title for this blogpost is the title of Eugene McCarraher's magisterial book, published in 2019 in the USA. I bought my copy last year as soon as I discovered that this 800-page work that has taken two decades to produce had been published. McCarraher is an associate professor at Villanova University, a Catholic research institution in Pennsylvania.
Professor Eugene McCarraher - Villanova University
Here are extracts from the insightful review by Julian Coman, published in the Observer newspaper on 22 December 2019, with some commentary from myself:
To begin, I should point out that a volume with this title was bound to attract my attention. In my book: 'The Road to Corbyn' (2016) - [copies available using this link here] - Mammon soon makes his appearance. This work, after all, is my reworking of John Bunyan's 'The Pilgrim's Progress' for our 21st century times:
'The Lady Hope had warned him that there would be moments of testing on his journey in search of truth. He must have passed through the archway that marked an election victory and found himself in this celebratory fair. Pilgrim could feel the sense of a past recalled sweep through him. Another journey, another place, another fair... Souls sold for commercial gain... The merchandising of every human activity and all things... A fair dating back to the beginning of time and ruled by Mammon, the grasping figure of greed who controlled the human species through love of money. Vanity Fair. (16) - p.15
16. 'Mammon' is a term used to describe gluttony and unjust worldly gain in the Christian Bible. it was first personified as a false god in the New Testament of that Bible. (Mt. 6.24; Lk. 16.13.)'
I should also note that I first became aware of Professor McCarraher's book and ordered my copy as I struggled with my own disappointment with the Tory landslide victory in the December 2019 General
Election and started to cotton on to the news that there was a viral pandemic heading our way. '
The Enchantments of Mammon
' remained high on my reading list but unread as I set about writing my own book: '
Dying to know - Running through a Pandemic
'. I suspect that the global pandemic will diminish the significance of McCarraher's wonderful insights. Too few people will read his work or be aware of its message. If I can do anything to reverse that twist of fate, so be it.
And so to Julian Coman's review:
'It is almost impossible to categorise Enchantments of Mammon. This monumental labour of love took two decades to write. There have been marvellous studies of contemporary capitalism published in recent years, for example Wolfgang Streeck's How Will Capitalism End? But this is an extraordinary work of intellectual history as well as a scholarly tour de force, a bracing polemic and a work of Christian prophecy. [My italics] It perhaps should have been at least three books. But it is beautifully written and a magnificent read, whether or not one follows the author all the way to his final destination in this journey of the pilgrim soul in the capitalist wilderness.
.........................
From the English Puritans who made money for the greater glory of God, through the machine idolatry rampant in 1920s Fordism, to the cult of the ruthless entrepreneur – most recently sanctified in the election of Trump – capitalism is best understood, he concludes, as a secular faith. It operates through myths and dogma, just as any religion does.
.........................
The 17th-century Puritans are presented as a capitalist "avant garde", driven by notions of a divine calling to turn common land into private property and then turn a profit on it. McCarraher quotes Gerrard Winstanley, champion of the Diggers movement, on the iniquity of the enclosures, which let loose the demons of possessive individualism. Money, writes Winstanley in A Declaration from the Poor Oppressed People of England, becomes "the great god that hedges in some, and hedges out others".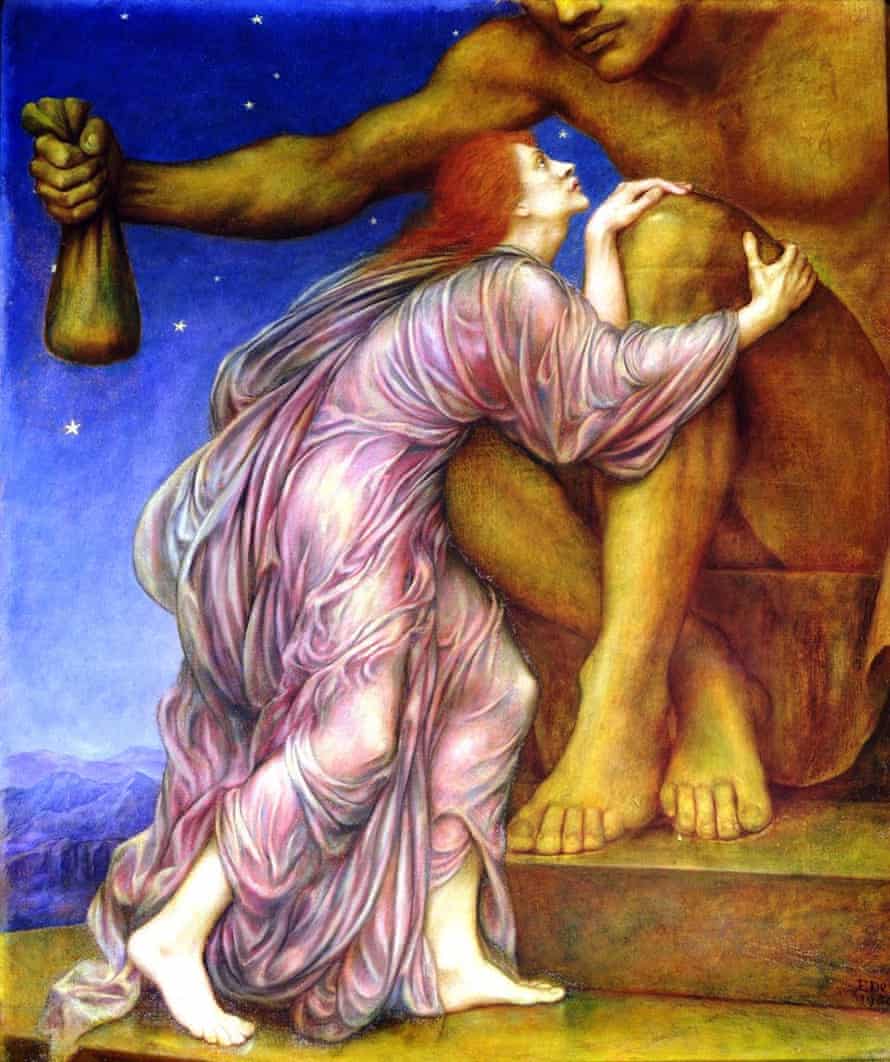 The solution, as Joni Mitchell might put it, is to "get back to the garden". A new Romantic left is needed to reinhabit a sacramental imagination, which values people and things in themselves rather than as factors of production, and places collaboration over competition. McCarraher revisits the British Romantic tradition of the 19th century, recalling John Ruskin's principle of "amazement", which teaches that the gifts of nature should be admired and nurtured, rather than ravished and depleted. He rereads William Morris's News from Nowhere and William Blake's poetry, invokes the spirit of the Arts and Crafts movement, and celebrates the farms pioneered by Dorothy Day's Catholic Workers, who seek a fuller, humbler life in which they "milk cows in the morning, plough in the afternoon [and] study Aquinas in the afternoon".
Most strikingly, perhaps, McCarraher mourns the brief life of the Occupy movement, which startled New York in 2011, observing that: "The Occupiers rebuked the callous and insouciant rapacity that had marked the previous three decades. With the free provision of food and medical care... a gift economy had supplanted the mercenary order of accumulation. Alas, it seemed that humankind cannot bear too much of heaven: Occupy and its tongues of fire were quickly extinguished or exhausted."
'The March for the Alternative' - Louise Donovan (2011) - textile art that captures the spirit of hope in the UK that was soon blocked and dampened down until Jeremy Corbyn appeared on the scene in 2015.
The author's dogged idealism is uplifting. But Romantic countercultures have had an unsuccessful time challenging the church of Mammon. Sometimes, as McCarraher notes, their ideas have simply been monetised and co-opted into the next wave of capitalist accumulation. And at least some readers may be less surprised than he is at how hard it is to live in heaven, given the expectations there. There seems to be little sense here of original sin, or the tragic dimension to life.
But it feels wrong to quibble with a book that is so refreshingly original and splendidly pulled off. In any case, where pessimism might take hold, the author's Christian faith gives him a trump card. For McCarraher, it is simply the case that "the Earth is a sacramental place, mediating the presence and power of God". That cannot change, however obscured the truth is by a destructive lust for power and accumulation. It is simply a question of seeing things as they truly are.
Some secular romantics might not be able to go along with that. But that should not make this remarkable book any less enjoyable for them to read and mull over in alarming times.
The Enchantments of Mammon: How Capitalism Became the Religion of Modernity by Eugene McCarraher is published by Harvard University Press (£31.95) '
I hope that you, like me, find this review a powerful appetizer and that you do get the opportunity to read the book yourself. This week I shared my excitement with our Dutch friend, Ingrid, and our American friend, Jessica, after reading the first twenty or so pages where McCarraher outlines his thesis. I mentioned to them McCarraher's citing of the poet Gerard Manley Hopkins as a fellow Catholic believer in the notion that 'The world is charged with the grandeur of God' and filled with 'the dearest freshness deep down things'. Hopkins and McCarraher both bear hopeful witness against the desecration of the enchantment of the world. Ingrid went in search of Hopkin's 1877 poem and sent it to me. Here it is:
GOD'S GRANDEUR
The world is charged with the grandeur of God.
It will flame out, like shining from shook foil;
It gathers to a greatness, like the ooze of oil
Crushed. Why do men then now not reck his rod?
Generations have trod, have trod, have trod;
And all is seared with trade; bleared, smeared with toil;
And wears man's smudge and shares man's smell: the soil
Is bare now, nor can foot feel, being shod.

And for all this, nature is never spent;
There lives the dearest freshness deep down things;

And though the last lights off the black West went
Oh, morning, at the brown brink eastward, springs -

Because the Holy Ghost over the bent
World broods with warm breast and with ah! bright wings.

Such wonderful words, woven into this jewel of a poem. Our human distinctions between theist and atheist, believer and non-believer, fade when a shared sense of the sublime wraps us into a universal feeling. A new Romantic Socialist Left is definitely needed. I feel my identity affirmed as a Christian Socialist.